I was so excited to get a call in April from
"The Godfather!"
It is a call I had been hoping for, yet hadn't expected. I was on pain meds at the time after just having my surgery, so I had to ask my wife to reread the message! (j/k) When she said
"you're in!,
" I wanted to know what we were doing!
And wouldn't you know 
IT IS A STAR TREK MOVIE AND ANIVERSARY!
 Truely a huge honor to join the
PosterPosse
on this one!
To start I had to watch 3 seasons of the original show. I had no idea what I was missing. I wanted to honor the Captain and by far the
 Trouble with Tribbles
 episode was my favorite.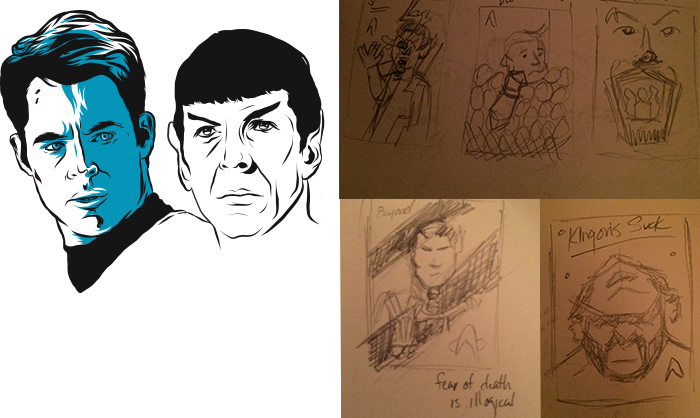 I also wanted to have it as a retro "Glamour Shot" like we saw from the late 80s, to honor Spock, and play the the tag "Fear of Death is Illogical."
With my
 Star Trek Beyond
 Poster I really wanted death as the theme. I started with the quote "
Fear of Death is Illogical
," something Spock said in the second trailer. I wanted to have him being pulled appart, revealing his skull and bones, by the tractor beams. Then I began to add the religion aspect to it, the light figure on the right shoulder, the Enterprise making the halo, and the devil on his left shoulder.